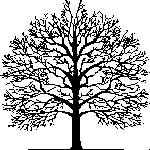 Daigrepont Family Tree
compilation by
Evelyn Daigrepont Bierniat




The following documents were submitted by Gloria Daigrepont Kennedy (Louisiana).

My grandfather's first wife was Sidonia Dubroc. Note: Daigrepont spelled wrong on this document.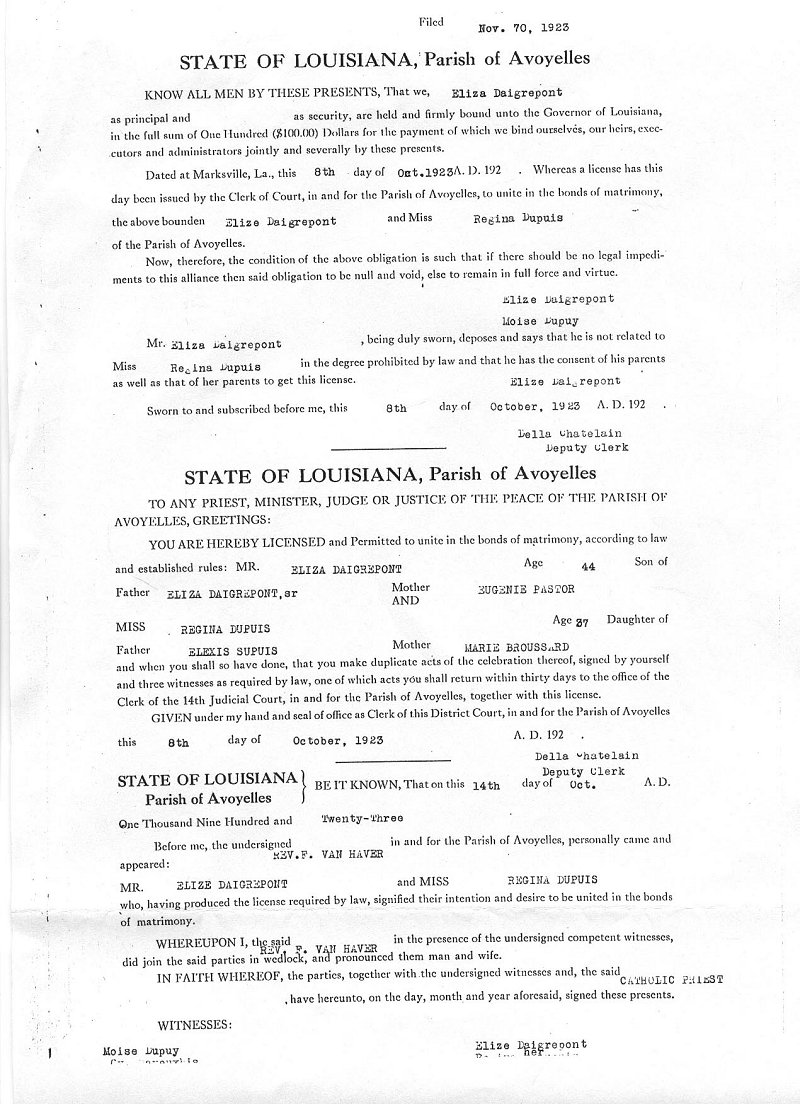 My grandfather's second wife after Sidonia died was Regina.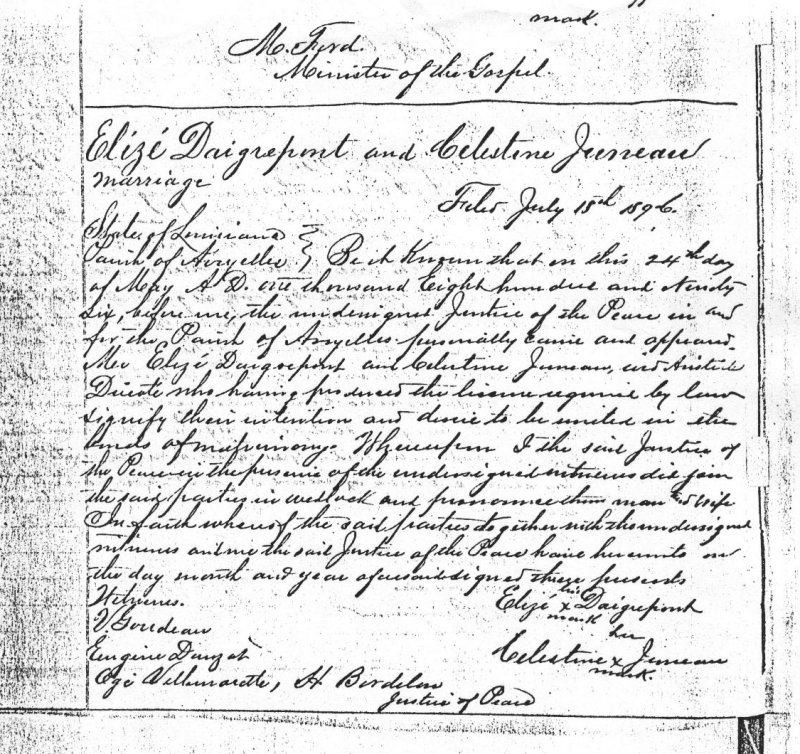 This is a marriage record of my great grandfather ?.

There are other marriage records that show Elisse, Elisee, Elize, Elizee Daigrepont. Are these all the same person???

Anna Daigrepont married 9 Oct 1879 Felix Marcotte by J.E. Chauvin (Book D, # 549) one of the witnesses was Elizee Daigrepont

*Marceline Chenevert married 9 Nov 1880 Elisee' Daigrepont by Father J.E. Chauvin (Book E, # 64)

*Elisse Daigrepont married Eliza Chenervert, January 9, 1983

Allaine Daigrepont married 21 Apr 1881 Homer E. Bordelon by J.E. Chauvin (Book E, # 137) I show a record with the same date and husband but the girl's name is Mamie. Abel Daigrepont married Clara Dauzat, January 10, 1889. Note: Abel was a witness to Elize' Daigrepont and Julia Dauzat in 1888. Are Julia and Clara sisters? See Julia's wedding to Elize' Daigrepont below.

*Julia I. Dauzat married 4 Dec 1888 Elize' Daigrepont by J.E. Chauvin (Book F, # 70) Abel Daigrepont was one of the witnesses.

*Juneau, Celestine, m. may 24, 1896, Elizee' Daigrepont by H. Bordelon, J.P. Wit. V Goudeau, Eugene Dauzat, Oge Villemarette (Book G, #30)

Note: On my grandfather's marriage record to Regina, states Elize Daigrepont Sr. as his father and Eugenie Pastor as his mother. The 1880 census shows a child (6mo.-year) named Elize living in the home of Azelie's and Pierre Daigrepont I. Per. Gloria.

It appears that perhaps Elize's mother died shortly after child birth and he was living with his grandparents Azelie and Pierre Daigrepont I... according to the 1880 census.





The following document was submitted by Melvin Daigrepont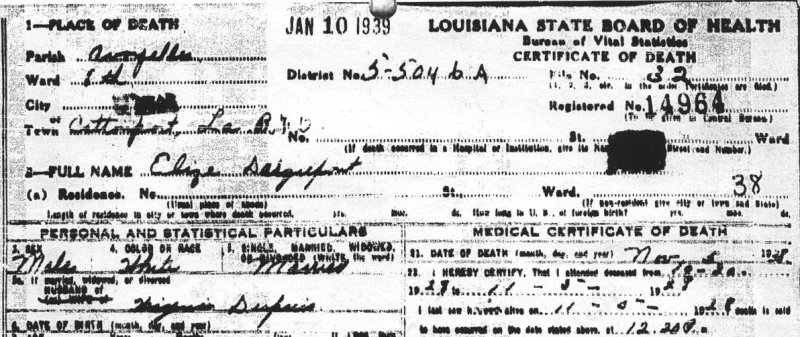 This is part of the death certificate of my grandfather. Regina was still living at the time.





The following document was submitted by me (Evelyn Daigrepont Bierniat)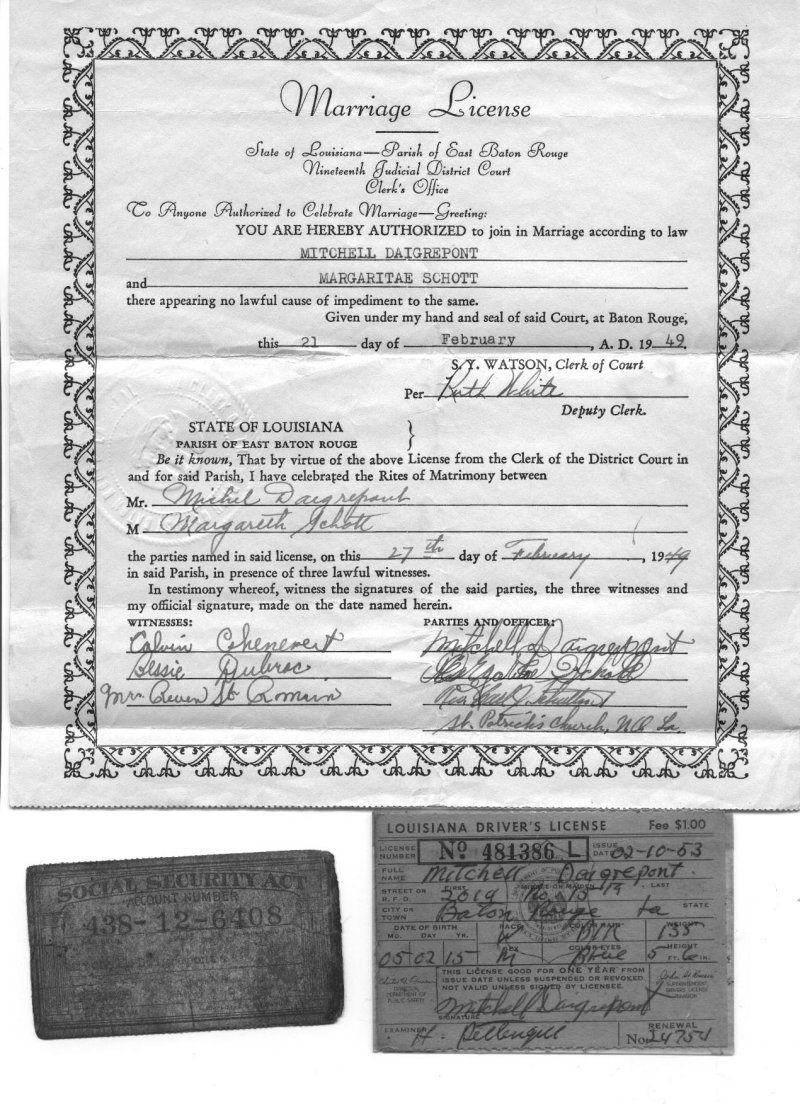 This document is a marriage certificate of my mother (Margaritae Schott) and father (Michel Daigrepont), Feb. 27, 1949. Also, my father's driver's license, 1953 and social security card. Michel died in 1955.





This document was submitted by Judy Daigrepont (Mississippi).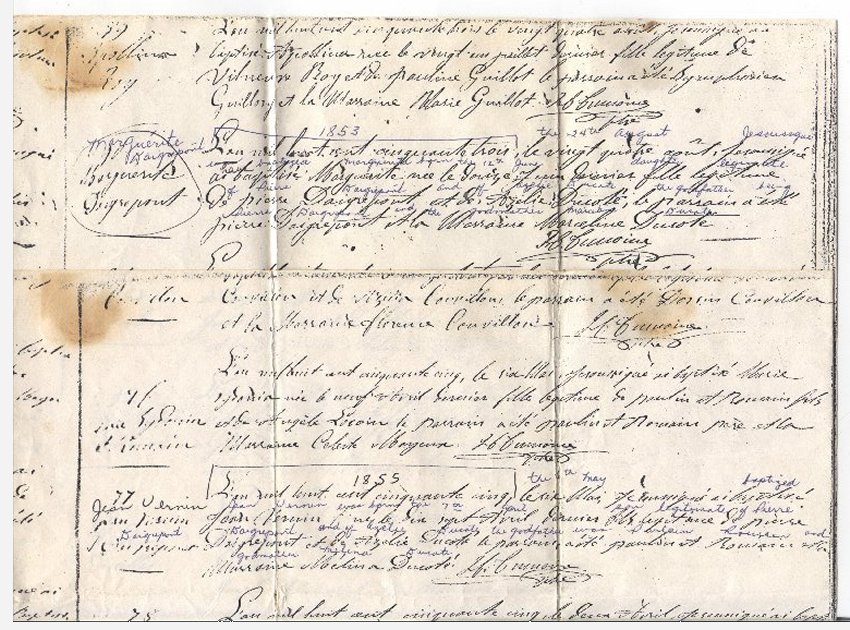 These two documents scanned as one... shows to of Azelie and Pierre Daigrepont I, children. Marguerite June 12, 1853, and Jean Vernin Daigrepont April 7, 1855. Jean Vernin carries the grandfather's name who was Jean Jacques Vernin Daigrepont. Jean Vernin, Jean Jacques Vernin Daigrepont grandchild, died very young. This is the only child so far on the Daigrepont tree that carried the 'VERNIN' name. VERNIN is the root surname of the Daigrepont, Ducrepont, D'AIGREPONT name.